Facebook Advertising
I might as well be honest from the outset and say that, personally I am not a great fan of Facebook as a medium for advertising in the general sense. Social Media Marketing, in my opinion, is overly hyped by the media themselves, as a means of gaining advertising revenue, and by SMM Marketers as a way of attracting paying clients. (See my Social Media Page for more in depth comments)
I can certainly understand why large companies with well known "brands" can see a benefit in keeping their name in front of a large audience. Facebook, with now almost 2 billion active members, fits the bill in terms of numbers and age profile for the likes of Pepsi or Coca Cola but does it work just as well for small or medium size businesses? I have some doubts.
Facebook Audience
Facebook is a place where people go to socialize, talk about their lives, read some funny stories and interact with friends and family. If you are a local business with a physical location where consumers regularly come to purchase your goods or services you may benefit from targeting people in your immediate area. A special offer, for example, may attract new customers.
Suitable Products or Services
Some types of products or services are a natural fit for selling on Facebook. Other types of products and services will be a harder sale.  In general you want to be selling to consumers and not to other businesses. Businesses on Facebook are there to promote themselves to customers rather than as a potential buyer of other companies services or products.
It will also help if you are selling something that is unique, customized, or a personalized product. You won't benefit from Facebook's marketing potential if you're selling products that could be listed in the "commodity" category or if your customer can easily find your product in large retailers and national chains.
Facebook is also a suitable place to advertise things that are fun and appeal to a person's core identity. Membership of a group or a club is a good sales opportunity on Facebook. Events, travel and entertainment are full of fun and positive emotions. These subjects are naturally social, and people love to ask "Where have you been?" "What have you seen?" and "Where do you want to go?"
Facebook Business Page
If you do believe that Facebook can benefit your business then the first step is to create a Business Page.  You must have your own personal page initially, which then enables you to design a professional page. This is free and fairly easy to set up and enables you to provide a profile of your business, directions, opening hours and a link to your website if you have one.  You can also set up links from your website to your Facebook Business Page and vice versa so that new items on your website are automatically posted to your News feed or people visiting your website can be persuaded to "like" your Facebook Page.
Your Personal Profile
The ability to find and see your personal profile may also be important.  People like to do business with people they know and feel they can trust or with whom there appears to be some empathy. There is, therefore, a potential benefit in selling yourself as well as your business on your personal profile as this will attract like minded individuals to you.  Just be careful you do not post controversial comments or posts that could alienate potential customers.
Advertising Options
If you then decide you want to promote your business via Facebook there are two methods of doing so.  Facebook allows businesses to promote custom posts or adverts targeting a specific audience, with varying costs based on the reach and engagement the advert receives. Facebook ads can appear in your target audience's News feed or in the right hand column of Facebook.
Post Boost
A custom post is an easy way to reach your audience. It can be either a post you write on your business page or an excerpt of a blog post on your website with a link back to the full article.  The purpose could be clicks to your site, attracting more people to "like" your Facebook page or signing up for a newsletter or mail list.
Your Post will have a Boost button displayed, which, when clicked, opens up a new panel where you define the audience who will see your post in their news feed.  Here is an example:-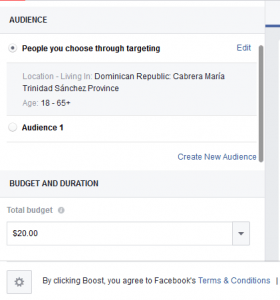 You can edit your audience to where they live, country, city, and in large cities boroughs or zones.  This can be extended up to 50 miles from the center. You then specify an age range and sex, male, female or both, that you feel will be most responsive to your promotion. The next important step is to define your audience.  Here you are looking at either behavior or interests.  Facebook has this demographic information from members profiles or from the posts they read or write on their Timeline or News feed.  So as an example if your business is modern ladies clothing you might well decide to aim at females between the ages of 18 and 30 whose interests are fashions.
Budget
Your next option is your budget.  This can be anything from $1 up and you can specify the length of the promotion.  So if your budget was $70 for 7 days you will spend $10 per day.  There is an estimate of the total audience within the defined area and the number of people your promotion is likely to reach.  You can stop the promotion or edit it at any time and only pay the cost up to that point.  There is  also an option to extend it if you find it is working well for you.
Normal Adverts
Facebook Ads are similar in terms of the audience set up, but the ad itself is designed in a similar way as a Google Ad.  You can include up to 5 photos, which is recommended, a Headline of 25 characters and Descriptive Text of up to 90 characters. As with any advertising determining your objective is paramount and wording the ad to achieve that using the limited number of characters can take some time, thought and effort.  For Ads you would normally set a daily budget and a set time for the advert to run but, as with a post boost, you can edit or stop the ad at anytime.
Monitoring and Management
Facebook provides a monitoring system via Insights or the Ads Manager Portal where you can see how your advert is performing and being received.  If one of your objectives is to drive traffic to your website Google Analytics will quickly show you what visitors are being directed to your site from Facebook and what they are doing on arrival. As with Google Adwords, measuring, testing and monitoring the success or otherwise of a Facebook Ad campaign is critical to ensure you are not just spending money without obtaining positive and profitable results.
So, if you do believe that advertising on Facebook is right for your business and you want to get the most out of your budget with less work I am here to help.  From setting up or maximizing the benefit of your Facebook Page, linking to and from your website, boosting posts or placing ads, all the options are available to you.
You can use the contact form below to let me know your requirements.